Why are you interested in this position?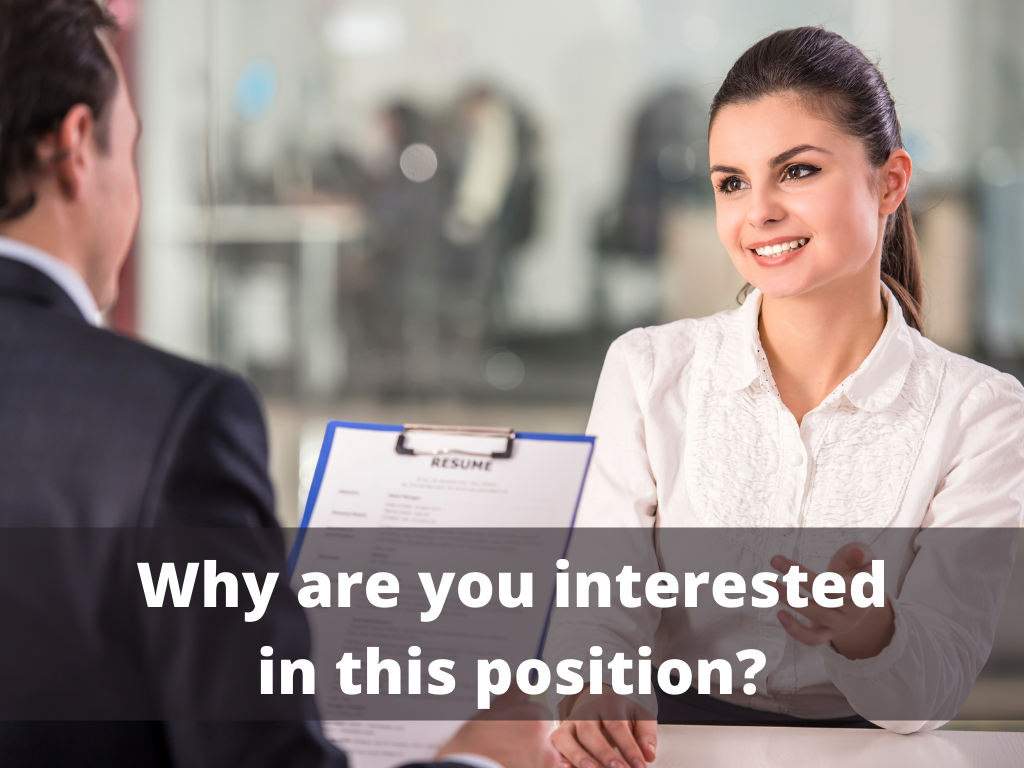 This is one of the most common questions asked in an interview. Unlike those questions which can be answered in a few words, this is an open-ended question that invites your creativity and innovation. Since this question is quite common, it is wise to prepare well in advance and expect this question to be in your interview. If you fail to answer this question perfectly, you may lose out in all probability as other candidates may have prepared for this. Keeping in mind the comparative tendencies of the interview, you must explore the intention behind this question, things to keep in mind while answering this question, common mistakes to avoid, along examples of well-crafted answers.
Alongside, you must keep in mind other varieties of the same questions with similar interests.
"What is the driving force behind your application for this job position?"
"Describe to us why you are interested in this job opening?"
These are a few illustrations of other ways in which the same question can be asked. In this article, we try to look in-depth at the procedure to be followed while you craft an answer to this celebrated interview question.
The intention behind this question
There are multiple intentions behind this question while the hiring officials ask you this during the interview. It is highly rewarding if you can understand those intentions because it will help you to craft the answer perfectly in a more impactful manner. Knowing the right intention means that your job is half done.
One major assumption regarding this is that the candidates attending the interview may have a range of motivations for applying. A candidate's motivation is so crucial that it holds the potential to determine the fate of the company itself. This question provides ample opportunity for your prospective employer to know you better and decide on your selection.
Some candidates may just focus on the income without looking into other inventions of the job. This may result in a hardworking but less committed employee, which is often not preferred by the employer. There may be other job seekers who see this opportunity as a skill-building arena. Candidates who belong to this category may not stay longer in the company once they are confident that they have enough experience and skill-building.
The added advantage of this question from the perspective of the hiring official is that it provides enough opportunity to check the knowledge of the candidate about the company. If the candidate brings in various components related to the company, such as the specific responsibilities and duties, it leaves a good impression that the candidate went through company history and procedures and is interested in getting the job.
Hiring managers prefer those candidates who are passionate enough and ready to commit. Invariably, hiring officials prefer those candidates who are interested enough to take up opportunities given to them.
Things to keep in mind while answering this question
There is a range of things that are to be kept in mind while you craft a perfect answer to this very common question. All efforts taken in this direction must help you to stay apart from the crowd and make your case stronger.
❖ Background research
Background research about the company and its policies is one of the inevitable things to be kept in mind while preparing an answer. It plays a decisive role in demonstrating your commitment and enthusiasm to the hiring official. You should keep in mind the fact that an answer which aligns with the work culture of the company will be highly rewarding. You can do background research about the requirements in terms of skills and experience for the job position you have applied for. This will help you to customize your answer and help to present your case as a unique one before the hiring officials.
❖ Study the industry in-depth
If you have limited resources regarding the nature of the job and the requirements of a job position, you may spend some time finding out the details of similar job positions across the industry. This will help you to have a good idea regarding how you should plan your answer.
❖ Inclusive of examples and illustrations
It is always a great idea to include examples to demonstrate how you could contribute positively to the goals and ambitions of the company through the job position you have applied for. Your past experiences can be used for the same, especially if you are an experienced candidate. If you are a fresher and have graduated very recently, you may try to include examples from your college life that may be related to the requirements of the job.
❖ Enthusiasm in the front seat
Always try to be enthusiastic and passionate in your answering style. It is possible that you may be enthusiastic but fail to make it explicit. This kind of worst scenario has to be eliminated.
❖ Structure your answer beforehand
Always structure your answer well in advance to avoid any sort of confusion during the answer. Always keep in mind that an overly stretched answer will not bring as benefits as you think. Being concise and precise is the strategy to be adopted for any interview question.
❖ Practice, practice, and practice
You must practice multiple times before you present it to the hiring officials. For this, do not memorize but rather focus on key points that you plan to present.
❖ Your contribution to the organization
You can explicitly state your goals and ambitions and how this particular job position can contribute to the same. This will leave a positive impression before the hiring official, as this reasoning can act as a proxy for your commitment.
❖ Talk more about the company.
It is an accepted strategy that you give ample time to reason why this particular company is the best in the industry. You may talk about the general reputation of the company and that of the top-level officials as reasons which attracted you. This can also be extended to your excitement and admiration regarding the initiatives of the company and its values.
❖ Expressing your expectations
If you have anything specific in mind regarding your expectations from the company, it is advised that you make it explicit. For example, a candidate may be interested in being involved in the marketing campaign of the company or to make effective use of the training programs provided by the company, or being involved in the collaborative ventures of the company as a learning process.
❖ Questions
It is never a bad idea to ask follow-up questions if you seek clarity in any of the above-mentioned things. A few positive questions give the impression that you are eager and enthusiastic to involve more in-depth.
Common mistakes to avoid while answering this question
Avoiding common mistakes while answering this question is equally important. Here is a list of a few mistakes that are to be avoided at any cost.
❖ Skip generic answering patterns
Selecting a generic answer pattern is a bad way to approach common interview questions. The hiring officials may not be interested to hear what they have been hearing for so long. What they expect from a good candidate is a very specific and unique answer which requires good preparation. A generic answer will not give any additional information about yourself, which may help them to evaluate yourself better. This also undermines the basic intention of an interview to help the hiring officials to analyze the candidate better.
❖ Do not focus on your benefits.
Your interest in the job position you have applied for should not revolve around the benefits you may gain from the exposure that the company gives. It may be true that you look forward to benefiting from those but being brutally honest is a very bad way to approach common interview questions. For example, if you say to the hiring official that you see this job opportunity as a stepping stone to an ambitious career path, they may have no interest in hiring you as they're looking for a committed and hardworking employee. Expressing the opinion that you see this job opportunity as a resume builder is equally good in expressing your displeasure.
❖ Benefits and perks in the back seat
The most common mistake that candidates commit is to focus on the additional perks offered by the company. It is quite natural that a candidate may be interested in those aspects of the job, but it is the last thing that should be answered for this question. This will not give clarity to the hiring official about the reason why you are there.
❖ Do not try to be funny.
It is not a wise idea to deviate from basic interview etiquette related to professional communication. This includes multiple aspects. There is no room for a candidate to be funny in this question, and any attempt to be funny will cost you dearly. Unnecessarily stressing on very obvious reasons will not also benefit you. For example, expressing the reason why you are there should not mean that you are just desperate for a job and nothing else.
❖ Do not focus on the paycheck for now.
It is to be ensured that you do not mention anything related to your pay for compensation when they ask about why you are interested in the job position you have applied for. This will nullify all of your attempts to present yourself as a passionate and enthusiastic candidate. This also goes against the basic interview etiquette that is to be followed.
Examples of perfect answers
Here is an indicative list of sample answers for this interview question asking about your interest in the job position you have applied for.
Sample 1:
"As a recent college graduate, I am very enthusiastic about starting my career in accounting. During my college days, I have dedicated time and resources to developing my skills and abilities. This job, as I saw it in the job advertisement, will provide ample opportunities to polish my skills and excel in this field. Considering the higher reputation that this accounting firm holds in the industry, I never had a second thought regarding taking up a job in this company."
Sample 2:
"During my career at the previous software company, I had a great opportunity to collaborate with other companies and colleagues with high goals and capabilities. With the experiences I had as a leader there, I have decided to step up into managerial positions. After coming to know about the work culture and collaborative opportunities this company provides, I am sure that I can contribute greatly to achieving the short term and long term goals of this company."
Sample 3:
"In my first job, I plan to build and put into action the skills I learned during my college. I firmly believe that this company can provide me with enough opportunities to express myself and contribute to the greater cause of the company in many diverse ways. My confidence in my adaptive capabilities what's the driving force behind my application for this job. I look forward to contributing to the short term and long term goals of the company and to be a committed and hardworking employee who can take up responsibilities and risk whenever asked to."
Key takeaways
1. You must help the hiring official to see how your experience and skill set matches the requirements of the job you have applied for. This interlinkage is the highest single contributor to the success of your interview.
2. You have to draft your answer in such a way that you express your complete understanding of the role for which you have applied. This requires enormous background research with details supplemented from the company websites, newspapers, and blogs.
3. Spend some time to discuss how you think you can contribute positively to the goals of the company and help the company benefit from your recruitment.
4. Do not underestimate the importance of practice sessions and mock answering sessions with your colleagues or friends. This will be highly rewarding as it will increase your confidence during the actual interview.
5. Always follow the basic interview etiquettes and professional communication techniques and do not deviate from those. Any deviation from such basic requirements and trying to be innovative may cost you dearly.