What is a Student Ambassador/ Campus Ambassador Program?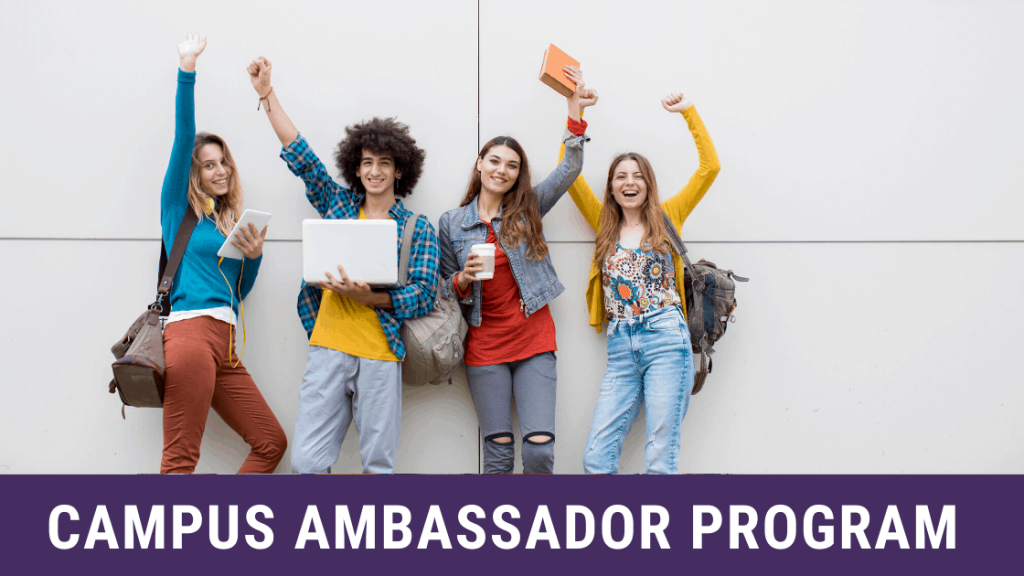 A Student or Campus Ambassador Program is a kind of internship program by many organizations or companies to maintain their brand presence, promote their product or services among college/university students. The companies select and appoint some limited number of campus ambassadors to represent them on their respective campuses. Microsoft Student Partner is one of the best examples of the Campus Ambassador Program. Selected students are trained in various Microsoft technologies and also by giving access to most of their products and services. These student ambassadors will teach their fellow students what they learned.
In most of the campus ambassador programs, a student may have to spend 3-4 hours a week for the same. This program will give a real work experience for the students during college in some skills.
What is the role of a campus ambassador?
There may be different objectives for each company for its campus or student ambassador program. The most common among them are as follows.
To spread awareness about their product or service among the students' community
To nurture a student community with the knowledge of their technology or services
To be the face and voice of the company in his/her campus representing the company's mission
Organize various events like seminars, workshop, hack-a-thons, and how-to sessions
To initiate marketing and promotional activities, including social media promotions.
Why do you want to be a campus ambassador?
A well-managed campus ambassador program will have many learning opportunities for students. They use to be first on their campus to learn about the company's latest product releases and features.
Students will gain many skills like team management, organizing events, public speaking, social media, content, and technical skills. 
The most valuable benefit is, these programs provide opportunities to get connected with many other like-minded student leaders across various campuses.
Some of the student ambassador programs also provide rewards like gift vouchers, goodies, Software/tools access, or even cash incentives.
Invitation for special events, conferences, or training.
You can add your Campus Ambassador Program experience on your resume, which is a value-added.
Certificate of the Program 
How does the Campus Ambassador Program differ from an Internship?
An internship is a kind of temporary employment where students have to perform specific tasks assigned to them. At the same time, they will be provided training on the skills you need to complete. Some internship pays the students while in some other you will gain real experience or academic credit. A typical internship lasts from weeks to months, and it can be part-time work, full-time during any time of the year.
Unlike internships, Campus Ambassador Programs are informal positions, where you not working from any office but responsible for spreading the word about the organization they present. Here students are given minimum supervision, and students can find their ways to perform and have more control over what they work. Student Ambassador Programs use to get more networking opportunities from like-minded students and mentors. Some campus ambassador programs also offer technical training or experience on the latest technologies.
Anyway, both offer students some experience that can translate to skills on their resume.
What makes a good Campus Ambassador Program?
You should be very careful about selecting a campus ambassador program to be part of. Not all campus ambassador program is beneficial for students. Some companies use the term "ambassador" as a synonym for a marketing agent. So, choose wisely. A well-managed campus ambassador program will have a clear objective, define responsibilities, a timeline, and a proper assessment strategy. Also, they will be assigned a point of contact for further communications and may have some rewards for the performers.
Before applying to any campus/student ambassador program
If the campus ambassador program is not from a well-known brand, do thorough research of the company. Learn about what the company does, the team behind it, the social media presence to analyze whether the program will add value to your profile. 
Understand how well they have crafted the campus ambassador program. Whether they have a clear objective, whether they have defined what will be the responsibilities for the campus ambassador, a timeline. 
How much time you may need to dedicate in a week/month for this student ambassador program
What is your learning or earning opportunities with this? 
Whether they have a proper performance tracking mechanism for the activities?
Suggestions while investing time for any Campus Ambassador Programs
It is good to keep yourself away from the promoting kind of campus ambassador program. Some may always insist you only to share their posts on social media, do promotional/ sales marketing. They may also offer you a percentage of the sales as a reward. This experience may only help you if you want to pursue a career in sales and marketing. Go for the campus ambassador programs from those brands who need not have marketed their product through advertisements by you, but instead want to bring some real opportunity for students' community through you. Like conducting meetups, workshops, hackathons for the students for skill development.
These programs will help you to develop your skills in time management, team management, people management, organizing, and connections with the official teams there at those particular organizations.
I will update you about all the well-know Campus Ambassador Programs here, As per now, the Microsoft Student Partner is accepting applications.