Set up a LinkedIn account – LinkedIn for Students
In the previous article, we have seen why it is important to have a LinkedIn account for students.
Here we will see how to set up a LinkedIn account. We are doing the same from the perspective of a student. This process and pages may have minor changes in future updates by LinkedIn. Opening LinkedIn.com will take you directly to the signup page if you haven't signed it. Just submit your First name, Last name, Email or phone number, Password and click on Join Now.
Many students use to do the mistake of using lowercase for the first letters of their name. That will highly affect the professionalism of your profile (In that case it is better to not to have an account). So, I am using "Mohammed Ramees" instead of "mohammed ramees" in my case. It is also recommended to use an email for signing up and make sure you use a professional email address. If you are not sure on how to choose a professional email address check out my blog on Choosing the right email address
Next, you have to complete the security check. There you need to select your country and provide your mobile number. You need to verify the same by submitting the code received.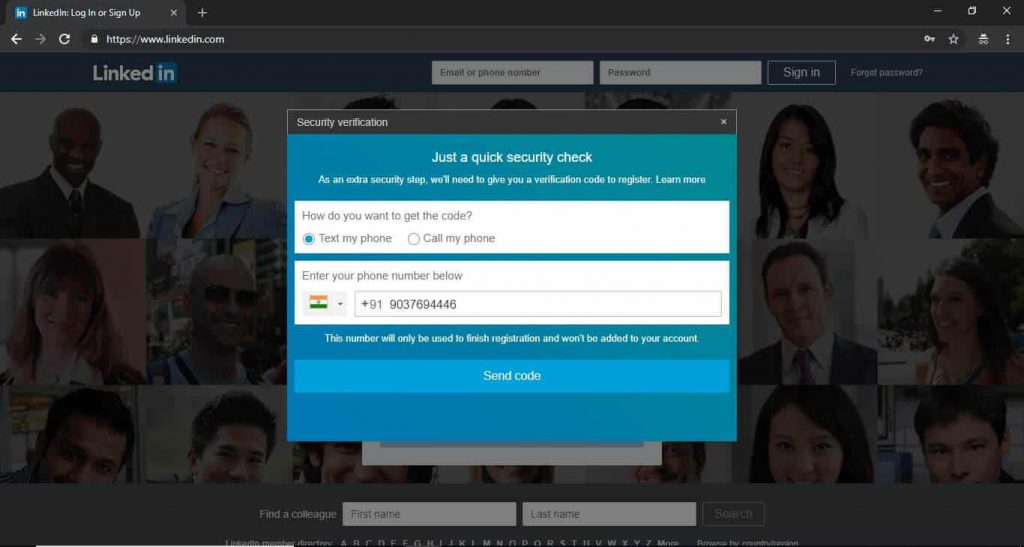 Select your country state and district, which you belong to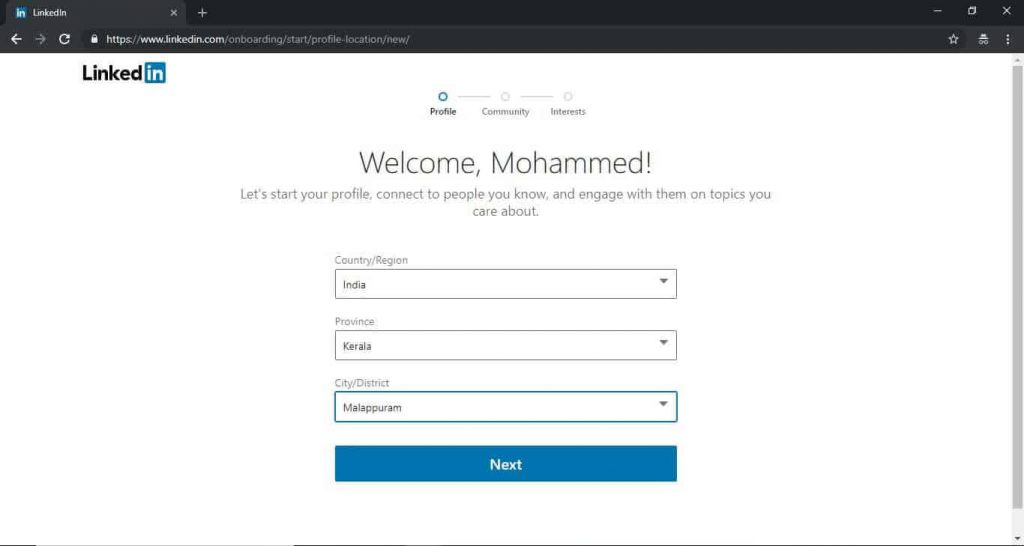 Next, you will be taken to a page asking about your recent job designation and company. If you had any internship experience you can add that. Else click on I' am a student.
Select the college name from the list, provide the name of Degree, Specialization, Start year, and Expected year of completion. Don't forget the rule of capitalization here also.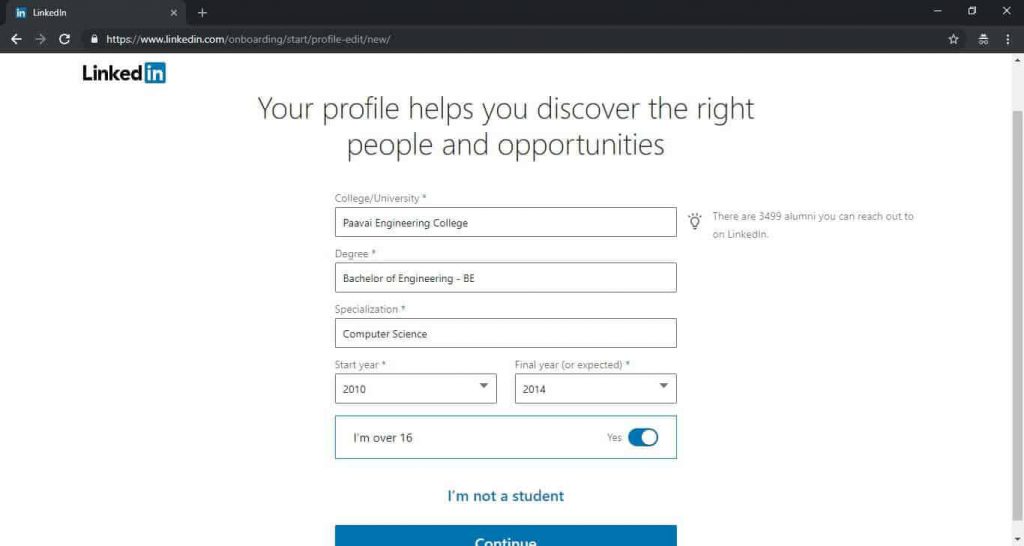 You have to verify your email also by submitting the code they send your registered email id. Submit and click on Agree and Confirm to complete the registration.
Next, it will ask whether you want to import all your address book from the given mail id and suggest you for connections. By clicking continue they will show network connections who are already on LinkedIn based on your contacts imported.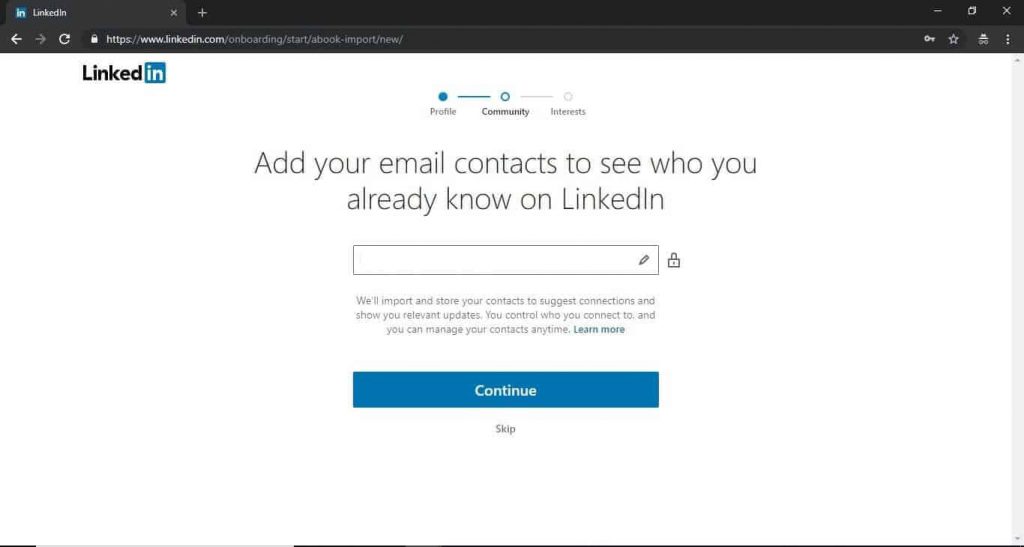 I am skipping the process as I am using a demo id here. You can click on continue and send connection requests to those who you want to get connected with. Even after skipping it will recommend you some people you may want to get connected with based on your college selection. You can uncheck any members those you don't as your connections and can add the ones that you would like to.
Now its to add a photo for your profile. It's extremely important to have a profile picture, as profiles having a profile picture receive far more views than those who don't. Click on the camera icon and add a profile picture from your system. There is provision to zoom or position your profile picture if you want. Make sure you are using a high quality, decent and new photograph of yours as people want to recognize you based on the same. Select an image that reflects the professionalism of you. It is good to have a face shot than of your whole body. Click on continue after selecting your photo.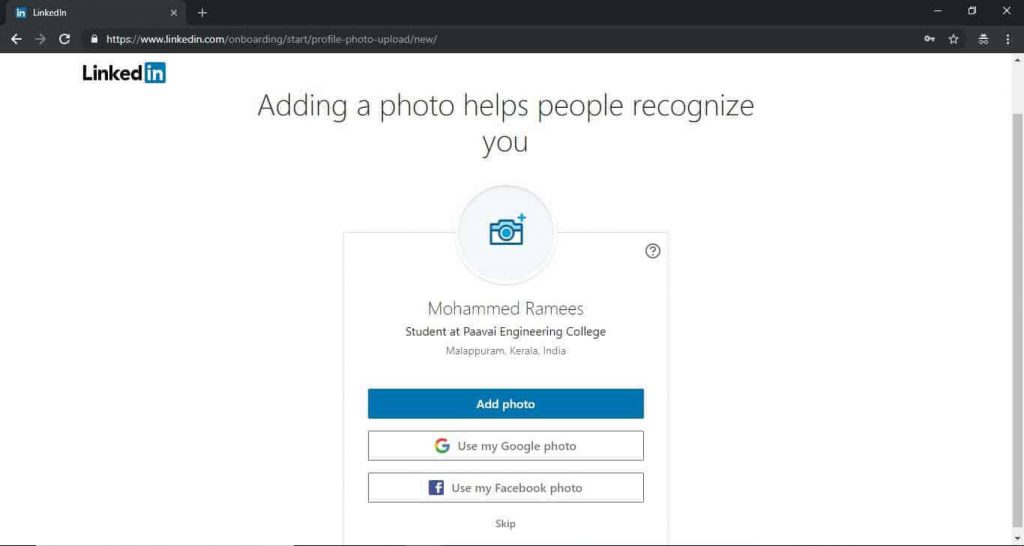 Next LinkedIn will ask whether you want to install their application, just by giving your mobile number they will send you a text message that allows you to download the app.
Now, this now brings us to our account. Our account is officially created but not completed. Check out the next blogs on how we can customize our profile in order to make sure that it stands out and helps you accomplish your goals.