Microsoft Learn Student Ambassador Program Accepting Applications for 2020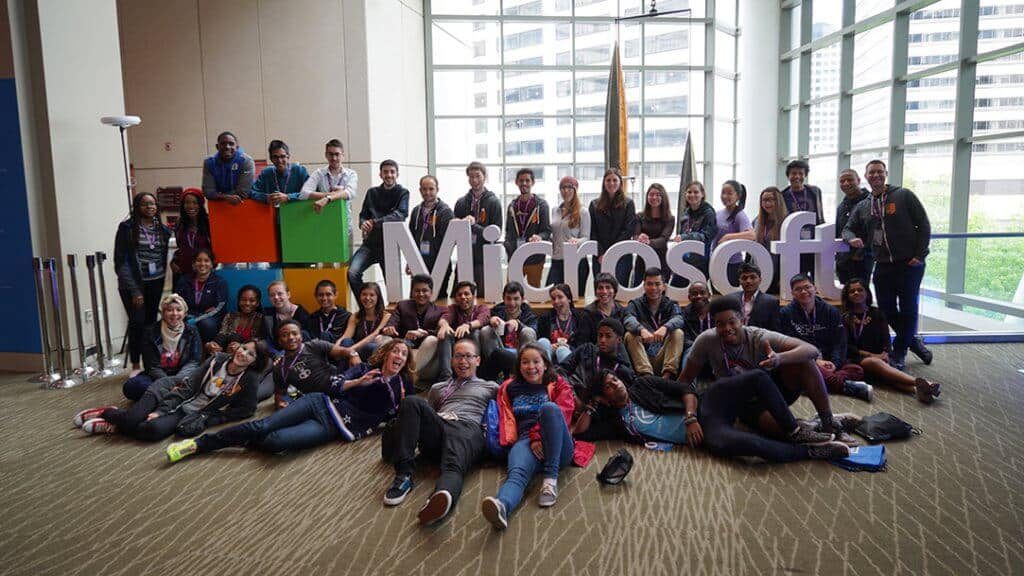 Microsoft is changing its Microsoft Student Partner Program to Microsoft Learn Student Ambassador Program. The application for the program is open and is to launch on 1 Jul. All the students who applied after 20 Feb 2020 will be considered for this July cycle.
As like Microsoft Student Partner Program, Microsoft Student Ambassador Program would also be an excellent opportunity for student leaders with a passion for making a difference, who love to build vibrant tech-communities and share the latest tech with their fellow students.
What is Microsoft Learn Student Ambassador Program
The Microsoft Learn Student Ambassadors program is the newly evolved form of Microsoft Student Partner Program. Like Microsoft Student Partner, the new Microsoft Learn Student Ambassadors are campus ambassadors who have a passion for technology, a desire to share and learn. Student Ambassadors expand their knowledge from peers, experts, and self-paced learning materials though the community and Microsoft Learn Platform. The Program is for those students who are eager to support their fellow students, lead a local technical community, and update themselves with the latest technological and career skills. They also mentor their fellow students, organize hackathons, ideate to solve problems, volunteer with an elementary school STEM class and more. It's all up to them.
Eligibility and Experience:
The applicant should be a minimum of 16 years at the time of submission.
Should have enrolled full-time in an accredited academic institution like a college or university.
All academic streams and background students are eligible to apply.
Some experience in coding and technology is an added advantage.
U.S. F-1 students need to check with their officials to see if participation in this Program would constitute a violation of their F-1 status.
Students in Cuba, Iran, North Korea, Sudan, Syria, and the Region of Crimea are not eligible for the Microsoft Learn Student Ambassadors program as U.S. export regulations prohibit the export of goods and services to these countries.
What does it mean to be a Student Ambassador?
Similar to Microsoft Student Partner Program, Being a Microsoft Learn Student Ambassador, you are supposed to build a local tech-community in your circle or campus. You should have the drive to make a difference in other's life by leading them and sharing your knowledge with them. Microsoft supports you on this journey by giving access to the required resources and experts. You will have an exclusive invite to the Global Student Network. You will also get Azure Credits and a Microsoft Office 365 Subscription.
Benefits of Microsoft Learn Student Ambassador?
By getting into the program, you will become a campus sensation as you are getting recognized by the top global technology leader itself. The core of the Microsoft Learn Student Ambassador Program is to allow building their technical skills their own from the though tutorials and guided paths in Microsoft Learn. The Program also offers some additional benefits for personal use, campus engagement, and career readiness. These benefits can be unlocked by achieving key milestones.
Alpha 1 – Getting into onboard and be active in a Microsoft Teams Community.
Alpha 2 – Complete any learning Path in Microsoft Learn and earn Microsoft Azure (Cloud) Credits and Visual Studio Enterprise Subscription (Worth $5,999)
Beta – Host a community event on your campus or circle and unlock event support and benefits. These activities and efforts may give you an invitation to the annual Microsoft Learn Student Ambassadors Summit.
Gold – Go beyond in earning badges by serving your community. Become a Student Ambassador's Regional Leader gain access to special events. The top performers may have an invitation to become a Microsoft Most Valuable Professional (MVP).
How much time commitment is required?
The Program is not requesting any fixed time commitment from students. Students will get back as much they invest in it. They have the flexibility in time according to their other responsibilities. The more time they spend in learning themselves and contributing back, the more likely they achieve additional milestones and access to new benefits.
Where can a student get ideas for hosting an event or workshop?
Being part of a global network of students and Microsoft experts on Microsoft Teams, students will be coming across all the updates on workshops and events their fellow community members hosted and the skills they are learning. Besides, you can also consider what technology skills your peers and fellow students would love to learn. You can also download some ready-to-go content from Major League Hacking and use as a workshop in a box with all the materials needed to get started.
How does the Program help a student in his school or career?
The program prepares a student for future careers through opportunities to build vibrant communities, learn and share the latest in tech with their peers. Students will also have exclusive access to Microsoft Learn, Azure Credits and other tools via Visual Studio Enterprise. Throughout the program, they will be equipped to build their technology skillset through hands-on learning.
In addition to the technical skills, students also will have the opportunity to develop their leadership and entrepreneurship skills. By experience, they acquire in hosting events on their campuses, networking with other students across the world and Microsoft professionals, they will build interdisciplinary skills, such as public speaking, and social media and personal branding.
What about current Microsft Student Partners?
All active Microsoft Student Partner member will be invited to become Student Ambassadors and the first cohort will be announced in early July.
What are the application process and deadline?
The selection happens quarterly, with the application open always. The expected date of results and launch of the program is 1 Jul. Even though there is no deadline for the program, the program may stop considering the application for this cycle 30 days before the selection for screening process like Microsoft Student Partner Program. Eligible students can apply directly through the program website.
During application, other than your personal and educational details, you need to submit the following information.
A written sample or video to demonstrate your passion for technology. Describe what excites you about technology and why you want to help other students explore and learn?
A written sample or video describing how would you take a technical concept and teach it to a friend or peer that has never heard of it?
A written sample or video describing how would you get students to attend an event you hosting at your school. Describe various ways you will reach out to your student community to ensure a successful and well-attended event.
At least one video of under two minutes must be provided for any of the above. A video recorded using your phone where the voice can be heard is accepted. Once recorded, upload the video to YouTube or OneDrive and submit the URL. You can check on YouTube for many sample videos of previous years' Microsoft Student Partner applications. (For Microsoft Student Partner Program, the video was to demonstrate your passion for technology explaining what excites you about technology and why you want to help other students explore and learn.) Here is a sample one.
Optional Additional Fields:
Adding the following additional fields will increase your chance of getting selected. But please make sure that they are worth to submit for the application process. Refer my blog on Customizing your LinkedIn profile.
URL of any technical blog post or how-to video in any language uploaded before
Personal website or online resume URL
GitHub repository URL
Twitter Handle
Stack Overflow display name
Instagram account name
LinkedIn profile URL ‎
Join our WhatsApp group to get more such opportunities for students at your fingertips
You may be also interested in