How do I become a Microsoft Student Partner: Journey to Microsoft Community
Myself, Mohammed Ramees, I manage, share, and author articles on this website Campus++. The analytics of the website shows most of our organic visitors are interested in how to become a Microsoft Student Partner. I was part of the Microsoft Student Partner community from 2012-2014, and the journey started from there continues as follow
National App Review Board Microsoft India
Microsoft Certified Trainer
Microsoft Most Valuable Professional (MVP)
Microsoft Azure Master 
Microsoft Reconnect MVP 
These Microsoft Community Programs had a significant role in shaping my career and for what I am now. Even I can say that this Campus++ is an impact of the same spirit. I don't want any students to miss any opportunity of being unaware of the same. In this article, I will share my long story of how I became a Microsoft Partner in 2012. Also, I have added a link to how to become a Microsoft Student Partner in 2020 at the end of the article.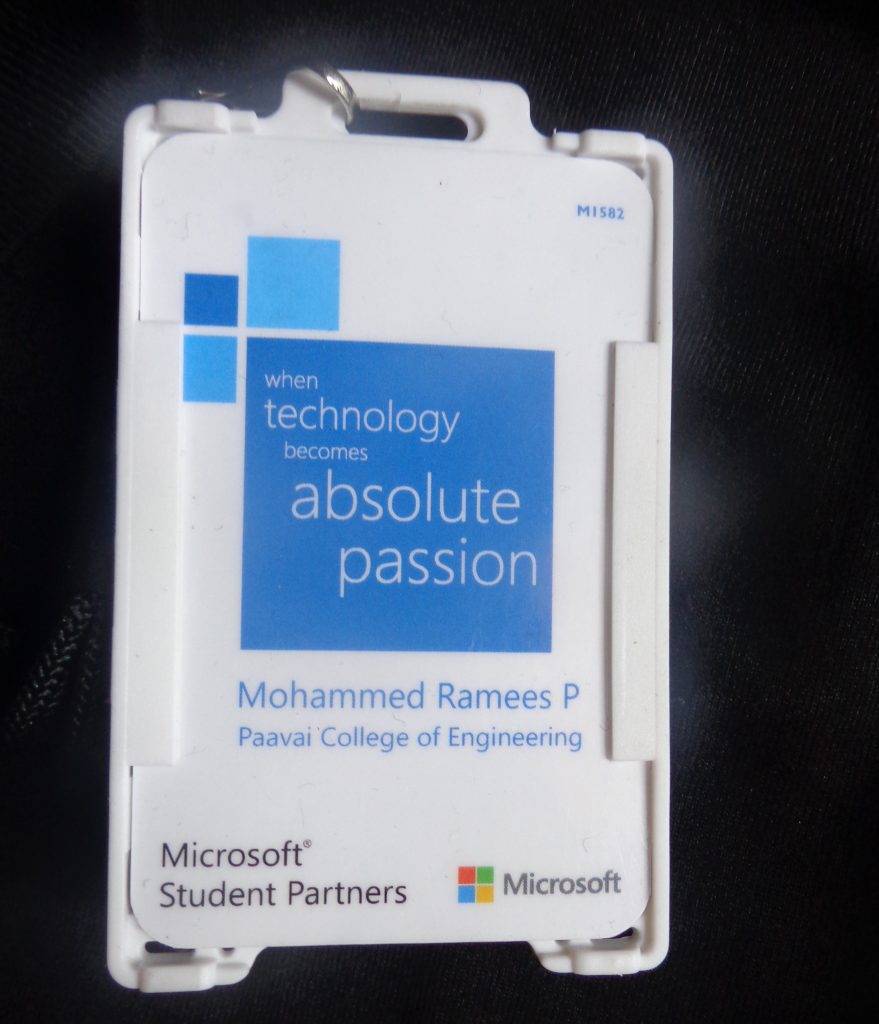 It was just another college day during our second year of college. Before the lunch break, our department head came to class to inform us that there will be no regular class afternoon as we have a seminar in another hall. Our campus used to have many such motivational seminars and other classes, and like many, I also was not at all interested in any of such classes. The only best thing I enjoyed with these events was there would be no regular class at that time.
So, as usual, my friends and I tried to bunk the seminar, and the HOD directly caught that attempt. The HOD herself took us directly to the seminar hall, and as usual, the first row of seats was reserved for the latecomers. There was no other option for me other than actively listen to the seminar. But unlike the other seminars which were usually taken by senior industry experts with many years of experience, this seminar was lead by just some young students like us from our nearby colleges. That excited me, and I just started listening to them.
There I came to know that they are Microsoft Student Partner Program, and that gives them this opportunity to guest speak on other campuses being a student. That was the first moment I heard the term Microsoft Student Partners. Then there was only one thing on my mind, how to become a Microsoft Student Partner.
How to become a Microsoft Student Partner? Sorry. I am not going to give a try for it.
I was tempted by the respect and the way our campus had treated them. I don't exactly remember what they shared during the session, but after the seminar, I waited, and I reached them and inquired how to become a Microsoft Student Partner. I just want to get a similar opportunity to travel to other campuses and enjoy the perks.
During the discussion, they explained the rounds on how to become a Microsoft Student Partner. I don't exactly remember all the rounds. Still, it was during the time of the launch of Windows 8, and one task was to create a Windows 8 App. The other was to shoot a video of me speaking in front of a camera about myself, my achievements, and why I want to become a Microsoft Student Partner.
That's all; all my adrenaline got lowered. How a student like me who just has an experience of writing some codes on the blue screen and receives the output on a black screen (C/C++) is going to develop an app. And none of our faculties was able to help with it. At that time, none in my network know about it. Anyway, I need to worry about this, only if I am going to do the other one, that is, to talk in front of the camera.
No chance. I was such a person who used to get irritated whenever I use to hear my recorded voice back. I haven't heard anything worse than my voice. I never got any of my videos before, and that is something I can never think. And not that much, in the same round, I also have to upload the video to YouTube, share it, get maximum views and likes. I was pretty sure that, if I do that, my friends would have downloaded the video, changed the audio with something funny, uploaded it back, and that video might have got viral and got as many views and likes.
I was like; even I was offered a job at Microsoft, I won't do a video for it.
Attending my first event outside the college
Days passed and back to normal, and one day one of my friends informed about an event at Bangalore by Microsoft and which is free to attend. I only heard Bangalore in that. The event date is on one of our Internal exams, and we might get duty leave for that. So that's an opportunity to skip that exam. Being Bangalore, one of the most developed and fascinating cities in the country, which I haven't visited before, I always dreamt of making a trip there. And the right time has arrived. I registered for the event, got duty leave, and started the journey for the event with some of my friends.
Only after starting the journey and from the train only I checked what the event is about, and then only, we installed Windows 8 on our laptops, which was a pre-requisite for the event. Reaching the venue, I was shocked and amazed as it was my first time attending such a great conference or event. The program was not for students, and most of the audience were professionals working at different companies. The event was Windows 8 App Fest, a 48-hour hackathon.
Hackathon? What is it?
I was expecting many talks or training or instructions. They just started a count down timer for 48 hours within 2 minutes of the inauguration and asked to start the hack. It was at the moment I Googled for what is a hackathon and realized that, in the hackathon, there will be no training. We have to develop some Windows 8 Apps there. So, as there is noting for us to do for the next two days. We started to enjoy the food, drinks, and games there. They had enough to keep us engaged for two days.
But still, we got bored with the fun, and also it is 48 hours continuous; the team started giving some goodies for those who completed. Without any hope that we can do it, we began to talk with others to understand how to do an app. They instructed us first to install Visual Studio on our laptop. Even though I had heard the term Visual Studio before, I thought that it was a tool like Photoshop to design images or videos because of the word Studio on it.
There only I learned that Visual Studio is a tool to develop software (for me, everything was software at that time). I installed it and started to play with it. For the first time, I got a different Window other than the blue screen of C/C++, where I can write the code. Anyway, my C/C++ coding knowledge or that syntax is not going to work here. But being surrounded by many helpful peoples, they taught us to get familiar with the platform, the drag and drop feature, and to code for button events.
My First App. I did it
Even though it was a simple application. I learned, and I did something which I thought was never possible with me at that time. I understood what a function is, and how a function works, which I was learning in my syllabus. I was able to relate and understand many things I just learned from the book. (I was still waiting to complete my third and final year when I may be taught to do these). I can't express in words how happy I was at that time.
There I realized that, If you are in the right atmosphere surround by the right people, what every your feel impossible will be possible. And another thing about that event is we all left that event with the following certificate. A Guinness World Record Holder 😛
Again Microsoft Student Partner Adrenaline Rush
In the meantime, I also noticed some young people wearing Micorosft T-Shirts volunteering for that event, and they were helping us with codes also. And while we were getting enough cans of Pepsi, Cola, and other drinks, they were provided with Redbull. I felt there is something special about them. I talked to them and inquired how they got the opportunity to volunteer for such great events and how there are getting updated about it.
Again I heard the term back. They are Micorosft Student Partners, and that title gave them this opportunity. Again the adrenaline got pumped in double speed. I decided, at any cost, I want to become a Microsoft Student Partner, and it was near to the deadline of application. Now I have confidence in doing an app and also got a friend who offered help with one of his apps working with some changes on it. Gone back home worked on the app, got it published in the store. It was free for students to publish on the Windows store at that time.
Speaking in front of the camera for the first time, and also the last
The next one is the video. Even though it was mentioned, it is ok to record the video using any mobile camera or professional camera, and I didn't have my mobile with a camera at that time. And as I want to do it without any knowledge of my friends or families, I didn't trust anyone in my network to get help from the with their phones. I was afraid they might make it public. And also I don't want to compromise on it as I am making a try.
I started working on the script of what to say about my achievements and why I want to become a Microsoft Student Partner. I didn't have any achievements at that time, but that didn't stop me from making a try. I know this is how everyone made their first achievement.
Arranged some money and approached a nearby studio town who used to work for weddings, and as it was a kind of the first requirement for them, explained to them about everything, and they made one for it. Even though I was not technically crying, tears started flowing, realizing how bad I am and my voice and my acting. (Later, I realized that, that it is not just me, a major portion of people won't like to hear back their recorded voice).
That was my first video in my life in 2012 and the last as of now 2020. That was that much worse, which stopped me my trying for seven years even though I had spoken in 100s of venues. Uploaded to youtube, and I don't want to share that in any of my social media.
How I managed my excuse for not doing it.
For the video views, I checked with Google. I was trusting Google will always have a solution for every problem. From Google, I found a platform where we can share views of the video. It was like we watching someone's videos, and in return, someone else will watch our videos for the points we earned. Using that managed to get some views and applied for it. So by that, I completed all the tasks on how to become a Microsoft Student Partner.
After some days, I was again shocked to see the same photographer who shoots the video of mine covering one of my friend's wedding. My heart was beating too fast while I, along with my classmates, posed for a group photo with the couples. If he could have recognized me and given a shaking hand and enquired about that, my friends would have searched for it on youtube. It was just an after a couple of days; I uploaded an edited-funny video of my other friend in the same team. Thanks to that unknown photographer who saved me from that. Else that same video would have still haunted me.
Now the result day of Microsoft Student Partner
Days passed, and it is time for the result. I was on a college holiday and was at home (not at the hostel). On the night before, I was not able to sleep, and I was that much excited than my 10th result date. As I didn't have an internet connection at my home, I checked for any emails from an internet cafe in the nearby town. There were no such emails. ☹
After a few hours, a friend called me and shared his happiness of being got selected, after congratulating him and informed about my unluckiness, he told me that I am also on the list. He also added that there is no email, they just published a list of names and college of those who got selected, and he can see my name also on the list. I didn't believe it until I see it with my eyes and traveled back to the town, the same internet café.
Yes, I am a Microsoft Student Partner 😊. Still, I believe that that is my greatest achievement. Even though there may be a list of a few more, others may weigh more than that. That all are as a result of that. It was MSP that helped me to move from zero to one.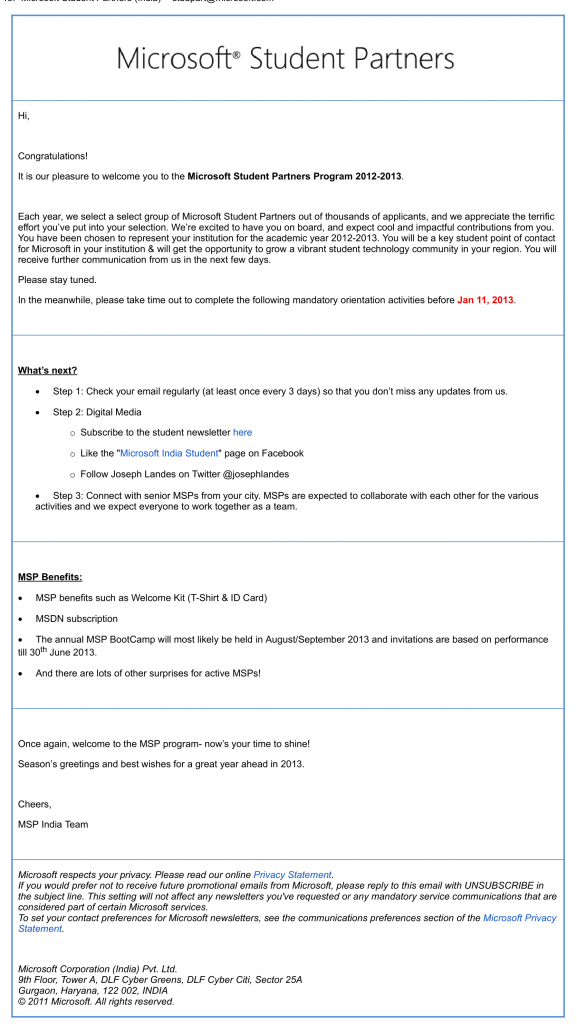 MSP was my first step to Microsoft Community. 
What I learned from the journey of Becoming a Microsoft Student Partner
In every seminar, workshops, session, or even from a person who might meet who may be younger or elder than you, Believe that there is at least one new thing you can learn or know about.
You have to create your first achievement to achieve the remaining. Else you will end up saying; I don't have any achievements.
Being in the right environment and with the right people will help you to make the impossible possible.
Pulling yourself from trying something new for your career or passion, afraid of friends' comments won't help you in the long term. After college, you alone have to find a job for you.
As quoted by Paulo Coelho, "And, when you want something, all the universe conspires in helping you to achieve it." Thanks for that youtube view share platform.
Also, check out on how to apply and become a Microsoft Student Partner Program in 2020.
If you like this story, click the like button below, which will inspire me to complete the next part of how to perform as a Microsoft Student Partner.
To get notified on similar opportunities and career tips. Join our WhatsApp Group