Free learning platform from Microsoft – Microsoft Learn
Microsoft introduced a new free platform for learning Microsoft Technologies. It will act as a one-stop for self-paced, guided learning for all Microsoft platform product and services. Microsoft Learn currently has more than 80 hours of learning content covering topics for Microsoft Azure, Microsoft Flow, Dynamic 365, PowerApps, and Power BI. These contents will also help you with the Microsoft Certification exams.
The platform provides a task-based interactive learning with step by step tutorials and interactive coding environments. The best thing about the platform allows to create and manage Azure resources without any credit card.
The courses are categorized based on Job Role (Administrator, Business Analyst, Solution Architect, Developer, Business User), Level (Beginner or intermediate) and Product (Virtual Machines, Storage, Power Apps, Power BI).
Features:
Free fixed-time Azure resources: Maybe you are new to Azure or already a customer you can try to learn using a Learn Sandbox without the fear of getting charged or breaking production. (You need not submit your credit card).
Azure Cloud Shell Support: Try Azure CLI or Powershell in the browser itself with no extra configuration or installation
Interactive code editing: Open a browser-based code editor in the cloud shell which helps you to quickly edit the code
Knowledge Checks: Multiple choice questions to check your knowledge and explanation for wrong chooses answers.
The platform allows you to track your progress, check your knowledge, and validate your scripts to earn points, achievements, trophies, and levels. The contents are organized into modules defining an overview of the module, learning objectives, the time required, prerequisites, and the number of Experience Points (XP) rewarded.
To access Microsoft Learn you need Microsoft account to sign in to the website.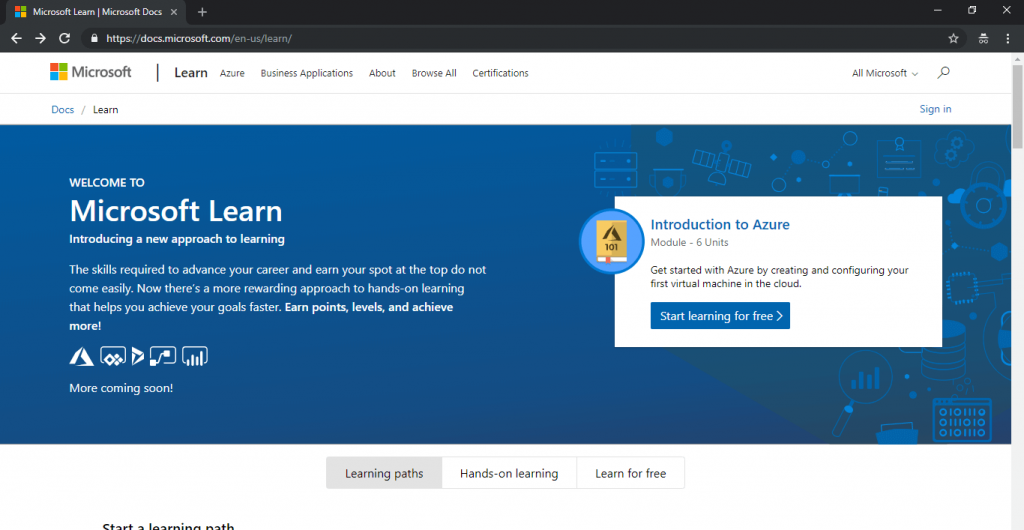 Click on "Sign in" on the landing page and provide your email id and password to create a profile. After that, you will be asked to provide a username and display name here. (If you don't have, you can create one, its free, check out my blog on Choosing the right email address to have a professional look email id)
New to cloud computing and Microsoft Azure? It is good to start with "Introduction to Azure" course.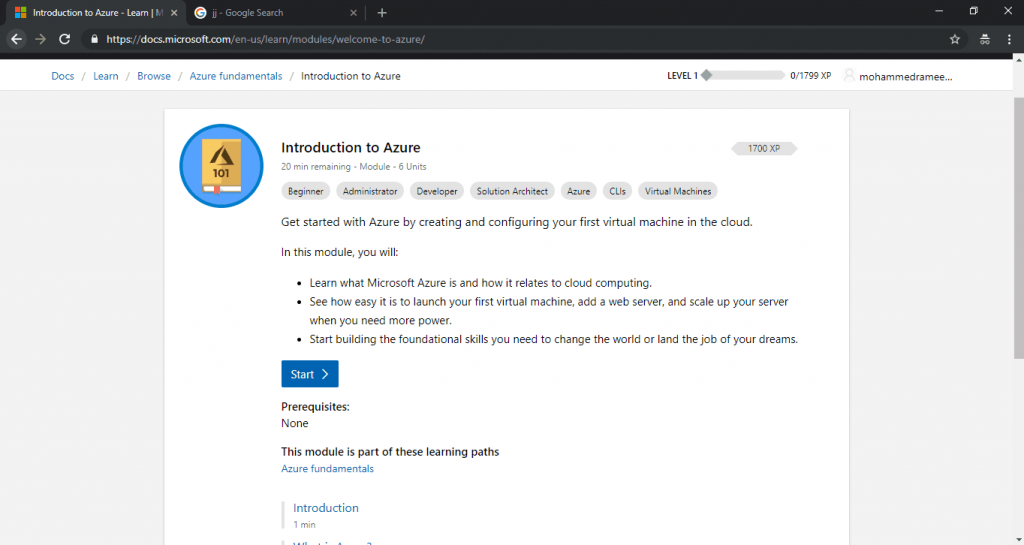 If your interest is not Azure you can check out the other courses on the list also.
Source: Microsoft Learn Page