Campus++ Student Ambassador (CSA)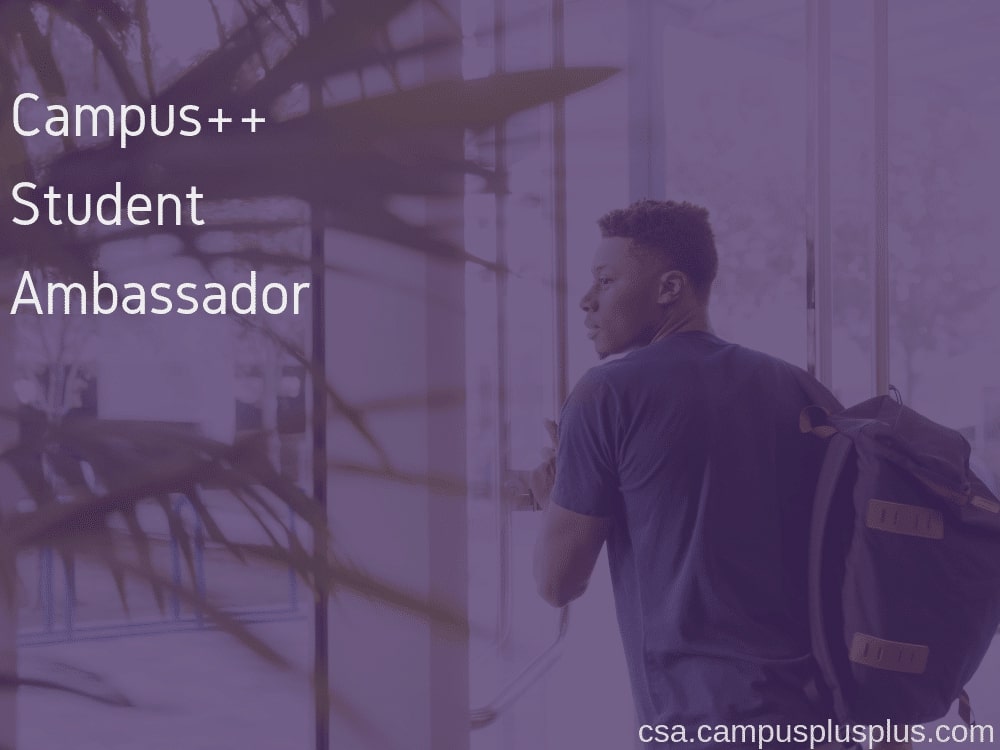 We are sorry; it is found that the program is no more accepting any applications. Please check out the following that you might be interested in.
---
Campus++ Student Ambassador (CSA)s are on-campus student leaders with a passion for sharing what they learn with their fellow students. They expand their knowledge from peers, experts, or on their own through videos and self-paced learning materials, making it easy for others by writing articles or tutorials, recording videos or presentations, and speaking or training during events.
This will be a stepping stone to the world beyond the four walls of their classroom. The Campus++ Student Ambassador program aims at building a network of like-minded students across the state who share opportunities, nurture and groom them, and thus contribute to their career growth. Our commitment to Campus++ Student Ambassador (CSA)s is that we will do our best to keep them engaged and to learn. They will serve as community leaders, evangelists, and technology experts in their respective institutions.
What makes you eligible for the Campus++ Student Ambassador:
A passion for technology and a desire to learn and explore
Currently enrolled in any science, engineering, and technology stream in any campus in Kerala and not in the final year of the program.
One who think outside the box and are open to new opportunities
Have a "Never Settle" attitude
Good in communication and presentation
One who think social media is the place where they love to hang out and connect with people
Courage to shoot a video of yourself in front of the camera and share it with us. This makes us confident that you can conquer your stage fright
What you get during the program:
Gain leadership experiences
Develop technical and career skills
Access to our mentors
Find yourself leading a community and mentoring other students.
Train the Trainer Workshops
What you should do during the program:
Choose a domain of your interest and expertise the same within two months of enrolment.
Develop and host a personal website of your own to showcase your programs and achievements within one month of enrolment
Attend a minimum of 10 workshops/hackathons/seminars/ training outside your campus during the term
Speak or train at least five events with a minimum of 2 outside your campus during the term
Author and publish a total of 10 articles or tutorials with a minimum of 3 on career skills for Campus++ and the remaining on your blog or any other platform
Identify and publish various volunteering opportunities, competitions or challenges, success stories, or achievements of students, workshops, or training happening around the state in Campus++ website.
Be a part of at least one other similar community like IEDC, IEEE, Microsoft Student Partner, Google Student Ambassador, Firefox Student Ambassador, etc.
What you get on successful completion of the program:
A certificate & memento from Campus++
Campus++ goodies
Invite to CSA Summit & Party
Internship & Placement Support
Work reference for a career opportunity