BIRAC SPARSH Social Innovation Fellowship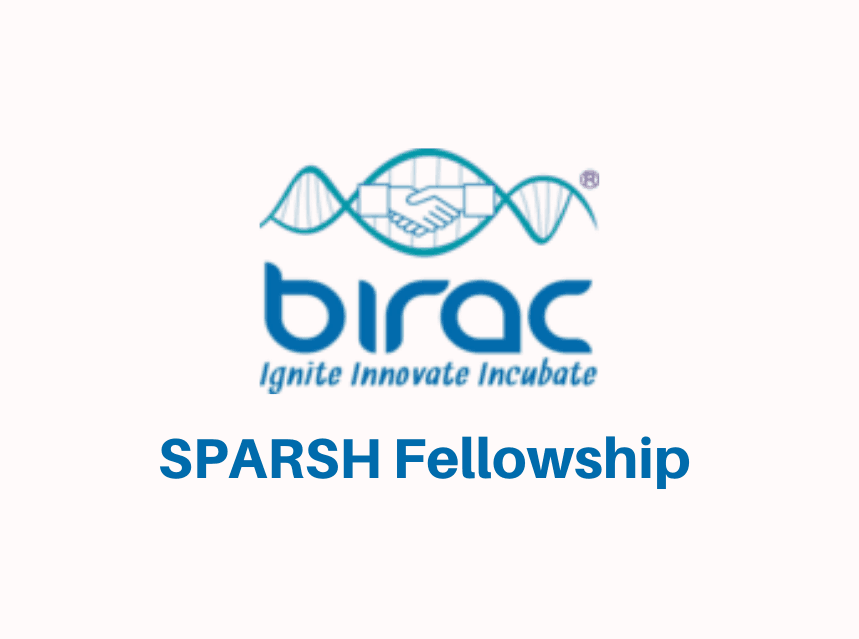 BIRAC is inviting applications for its innovation fellowship program SPARSH Social Innovator across 14 centers in India. The selected candidates will be awarded 50000 INR per month for 18 months and a 5 lacks mini kickstart grant.
About SPARSH
A social innovation fellowship under BIRAC aimed at finding innovative solutions with the help of biomedical technologies for most pressing social problems among society. Social Innovation Immersion Program (SIIP) is a scheme under SPARSH aimed to create a pool of social innovation fellows who can help in identifying and bridging the gaps within the communities through some innovative products or services. SIIP is implemented through 14 SPRASH centers across the country. The programs also help with funding support in the form of grants apart from the monthly payment.
SPARSH Social Innovators/SPARSH Fellows
The selection will through national application and applications to be shortlisted in collaboration with the SPARSH Centres. Selected candidates will be designated as SPARSH Fellows (SPARSH Social Innovators). They will be receiving an amount of 50000 INR per month for 18 months. During the course of the fellowship, each fellow is also eligible for a onetime mini-kick start grand of 5 Lakhs. Selected fellows have to work full-time and they can't combine with any other funded fellowships.
Each fellow will be assigned to one of the 14 SPARSH Center as per their choice during application. The center will be responsible for providing all the necessary support in any of the areas.
Maternal and Child Health
Ageing and Health
Food and Nutrition
Waste to Value
Combating environmental pollution
Agri-Tech
Highlights of the BIRAC Innovation Fellowship
Monthly stipend of 50000 per month for 18 months
A mini kick start gran of INR lakhs
Clinical/ Rural Immersion
Access to BIRAC network of Mentors and Investors
Mentoring by SPARSH Knowledge partner and 14 SPARSH Centres
Opportunities to seek funding on completion
Eligibility:
Applicant should be Indian Citizen
Below 35 years
Indian undergraduate (B.Tech, BE, MBBS) or postgraduate (MSc, MS, M.Tech, MPhil, MD) & PhD
From fields of life sciences, Agriculture, Engineering, Medicine & human biology
Timeline:
A duration of a total of 18 months, which cannot be extended further.
Selection process
Applicants have to apply through submit their application online through BIRAC Portal. During the process, applicants can choose his/her choice of the center.
The center-wise list of applicants will be sent to the respective center where they check for eligibility. Further evaluation and shortlisting will be also done here.
The shortlisted applicants will be called for an interview at the respective centers.
The selected applicants will be called SPARSH Fellows and will be entered into an agreement with the respective center.
Tentative List of SPARSH Centres across India
IKP Knowledge Park P Ltd, Hyderabad
Villgro Innovations Foundation, Chennai
Atal Incubation Centre, Hyderabad
Yenepoya Foundation for Technology Incubation, Mangalore
PSG-STEP, Coimbatore
SCTIMST-TIMED, Trivandrum
IIITM-K, Trivandrum
IIM Calcutta Innovation Park, Kolkata
C-CAMP Centre for Cellular and Molecular Platforms, Bangalore
Entrepreneurship development center, Pune
Healthcare Technology Innovation Center, Chennai
FIRST – IIT Kanpur
KIIT Technology Business Incubator Bhubaneshwar
Foundation for Innovation and Technology Transfer, New Delhi
How to Apply
For submitting the application for BIRAC SPARSH Innovation fellowship, candidates can BIRAC website from the following link
Last date for submitting applications: 15th January 2020
Are you a student in India? Join our WhatsApp Group to get updates on similar fellowships, career opportunities, volunteer opportunities, career tips and more.