Best grammar checker – Use Grammarly for better writings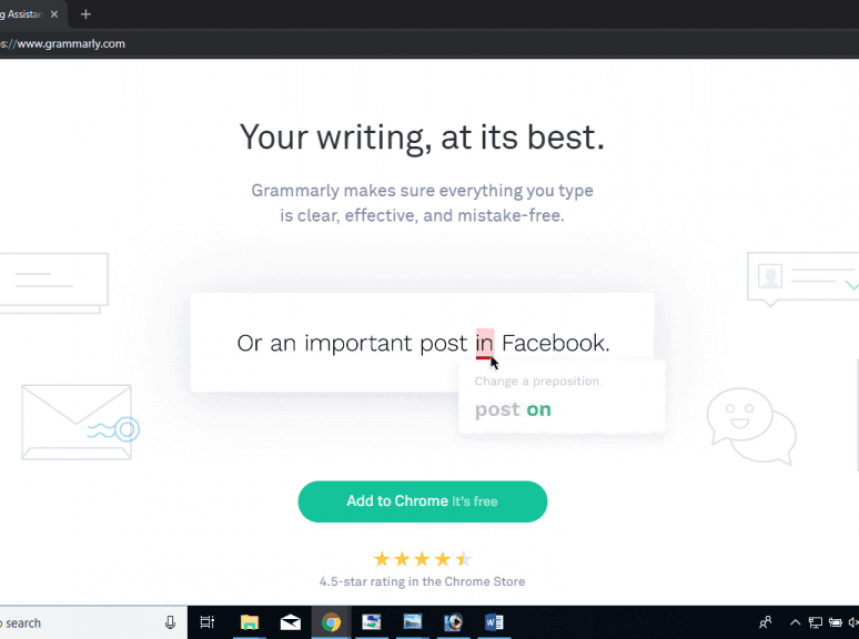 Today I just want to introduce you a must-have tool for students. A powerful and the best grammar checker tool that I am using for the last two years to improve my writing. Grammarly is an easy-to-use and free tool that help you to correct your writing mistakes, and at the same time help you to become a better writer. It is available in the form of Chrome extension, Web version, MS office extension. Even though you may have different built-in spell or grammar checking tool, still Grammarly is powerful. It has the ability to find many errors other programs can't and give you a better suggestion. You can get it from www.grammarly.com
Create an account
Even though it is not mandatory to create an account to use Grammarly, I highly recommend to. Because it is easy and free and you can add words to your personal dictionary. You can log in using Facebook, Google or email. On creation, it will prompt whether you want to install the chrome extension. Download and install the chrome extension as you may not be coming to this portal to always check your writings. By installing chrome extension this program will work in almost every field in any website inside your browser.
Free and Premium Versions
Even though the free version is powerful with critical grammar and spelling checks. They are also having a premium version which supports advanced checks for punctuation, grammar, context, sentence structure, vocabulary enhancement suggestions,genre-specific writing style checks, and plagiarism detector that checks more than 16 billion web pages. You can buy if you do a lot of writing.
I am still using the free version only. To test the tool, they are providing a demo document inside their portal. This helps you to understand performance you can expect.
I don't use to use the web editor of them as either we want to write here or copy the content to here. I do my most of writing on Facebook, WordPress or Microsoft Word. This will also work with your chat applications like Facebook Messenger or WhatsApp Web. Other than Word everything will work with the help of chrome extension and for Word, we have to use their MS Office extension.
Because I have the Grammarly Chrome extension added, and I'm in the Chrome browser, let's check out another really neat feature. Let's compare a Facebook post without Grammarly and with Grammarly. While writing the post itself you can see the Grammarly symbol which turns red with a number if there are any errors and green if there are no errors. The analyzing may take some time.
It is easy to identify and correct any mistakes that are here. The mistakes will be underlined red and single hover will give the suggestion to correct it and a single click will correct it. If there is anything that you want to ignore, in other words, if you don't like that suggestion, you can skip it by clicking ignore.
The best place this will work is inside of our email account. Having the chrome extension, it will work nicely when you are composing an email which should be error free.
As like chrome extension, the MS Office extension will not work parallelly as we write. We have to click on Open Grammarly icon once we are done with writing. This will analyze the document and mark the mistakes and show the suggestions in the right sidebar. Please note the Ctrl+z feature will not work while you open Grammarly in Office application. Here is the same article I am writing checked by the built-in spell and grammar checker without any errors. Let's see the same with Grammarly checking.
This can save you a lot of frustration when you accidentally send a message, email or post something with a misspelled word or poor grammar.